Spiritual Truths & Swine! Why you should not discuss spiritual truths with superficial people!

A few days ago, I posted the following
at Twitter, Facebook and FriendFeed:

"Do not discuss spiritual truths
with superficial people. Swine tend to
trample upon pearls. — Philip Arnold."

Altough my post received several Retweets and
Likes, a few of my regular readers disagreed
with this great wisdom. They spoke of the need
to educate the superficial, of people having and
sharing their own spiritual truths, and of elitism.

I found their views very surprising because not only
is my quote a standard spiritual truth, known to
anyone interested in spiritual metaphysics, but also
because my previous quote

"Only those who have learned
to exercise their minds can make
sense of inner truths. — Philip Arnold"

which deals with the same topic, brought no dissent.

Recognizing the confusion on this topic,
I posted this explanation at Facebook:

"All spiritual traditions and schools have known and
practised this great truth. The reason for this is that
spiritual truth is not relative. Nor is it subjective. It is
absolute, it is principle, and it has to be understood
and practised as it actually is. You cannot have my
spiritual truth and your spiritual truth and a third
party's spiritual truth. If it is not absolute, if it is not
principle, if it is not universally applicable, it is not
spiritual truth! Do not forget that spirit is not many
but one and all-inclusive!

Accordingly, spiritual truth cannot and must not be
given to superficial people because their minds cannot
understand it. Superficial people will always pervert
and abuse it, and abuse you as well! Moreover, they
will teach others superficial versions of spiritual
principles, causing havoc in humanity. This, of course,
has happened again and again over the centuries
amongst adherents of the great religions, and is
happening even more so these days, with all sorts of
superficial people and mere writers playing at being
spiritual teachers and gurus. People no longer
understand their scriptures and many are practising
the exact opposite of what the scriptures contain!

Jesus was very familiar with the dangers of spiritual
truth being given to the uninitiated and warned his
disciples accordingly. He refused to explain spiritual
truths to the masses, restricting them to parables
instead, because their minds were not ready. You can
read about it in the gospels and see Jesus' explanation:

Here's The Parable of the Sower
as we find it in Matthew13:1-23:

Let Jesus explain it to you!

I hope everyone is now clear on this topic. But if you
aren't, just remember that we practise this truth in
many ways in ordinary life each and every day without
confusion and without talking of elitism! You don't, for
example, discuss the follies of politicians with a baby.
You don't teach grammar to children who have yet to
learn the alphabet. You don't hand a torch to a blind
man. And you certainly shouldn't hand a loaded gun
to anyone unfamiliar with guns!"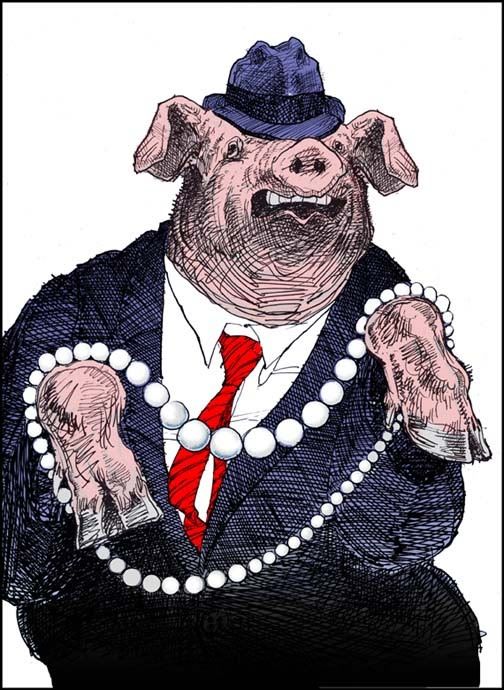 Credit: Pearls and Swine by Anthony Gonzalez Visit

My reply seems to have been understood by my
Facebook readers as no one has challenged it. But
I have made this post for the benefit of all my other
readers who might be confused.

If you ever disagree with my own quotes
– Philip Arnold quotes – or feel that the spiritual
principle within the quote is not as clear to you as it
should be, do not hesitate to let me know. Wherever
appropriate, I can always make a post explaining my
quote in detail. Please don't forget that I am not on
the Internet for the popular spam and porn diet but
to promote True Spirituality, and to provide spiritual
nourishment to any genuine seekers that might exist!

Have a happy, mentally stimulating, deeply
illuminating day – today and every day!

Philip

View original post or Comment on this post

Go to my home page

Subscribe and receive all my posts via email

Connect with me at Facebook, Twitter, StumbleUpon or FriendFeed